Part two of the two-part blog series "The Future of Finance"
The goal of achieving a more strategic finance and accounting function in a corporation has led to the rise of Continuous Accounting. Catch up with part-one of this two-part blog series. The webinar, "The Future of Finance," will be held on November 18th, to address the challenges behind this topic even further with specific steps that can be taken today to prepare your organization for the future. Register and save your spot for the free event today.
Why strive towards the Continuous Accounting approach?
With so many moving parts to account for, the Continuous Accounting approach leverages modern technology to automate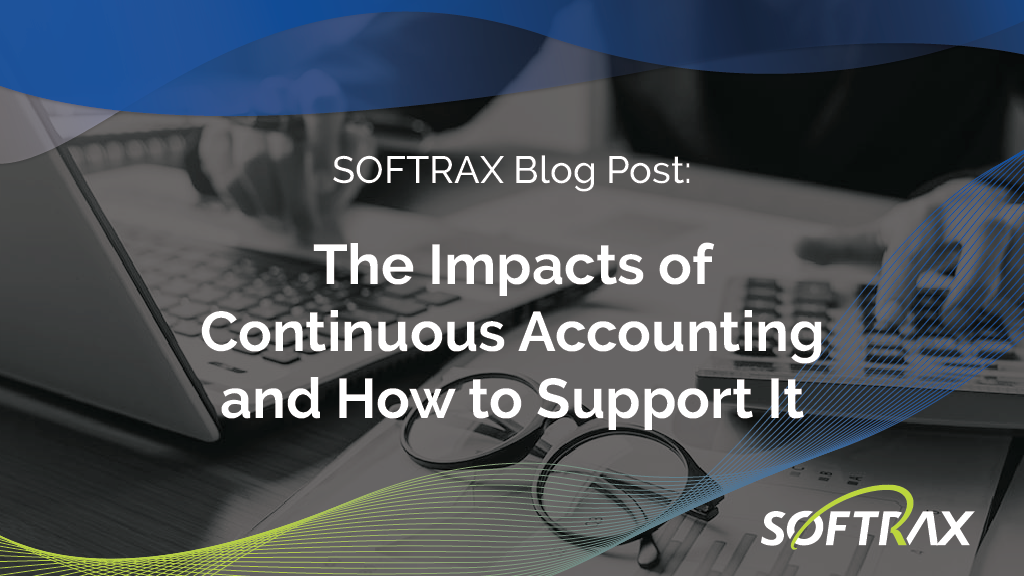 accounting processes and optimize resources to provide improved real-time accuracy and speed up the monthly close process.
Many organizations are early in their adoption of Continuous Accounting principles and many businesses continue to report the use of spreadsheets in the revenue recognition process. This blocks steps towards continuous accounting and slows the monthly close, which remains time consuming for many.
American Productivity & Quality Center released a survey of 2,300 organizations that found the median time spent closing the books each month is 6.4 days. The bottom 25% of respondents said it takes at least 10 days to close the books each month, while the top 25% of respondents get the job done in roughly 4.8 days.
With a software solution that automates high-volume processes, accounting teams can eliminate mundane tasks and focus on more valuable work while speeding up the monthly close.
Throughout the years, SOFTRAX has provided companies with the solutions they need to remove spreadsheets, automate high-volume processes, reduce risk, and increase efficiency. By streamlining these processes, SOFTRAX customers are empowered to strive towards Continuous Accounting. Tom Zauli, SOFTRAX's SVP & General Manager, discussed the complexities of this topic during the two-part live event, "The Future of Finance." In the event's second series, "Anticipating the Next Accounting Revolution," Mr. Zauli delved into a practical outline of steps towards the approach. On November 18th, Mr. Zauli will revisit the state of back-office modernization in 2021. We would encourage anybody who is interested to register for our upcoming webinar here!
How to approach automation in accounting and finance
There are several notable principals of continuous accounting to consider, with the most significant being the need to remove manual touches to downstream systems​. If this can be achieved, it is a strong indication of the potential for automated reconciliation. However, the task is easier said than done. While back-office modernization and Continuous Accounting create many organizational impacts and the pain can be great, the benefit is greater.
Our suggestion is to start with simple task automation. Avoid deploying too much, too fast.
Another common misconception is the idea "automation isn't something we need to implement now… it can wait.​" Automation is here now and continues to advance. By putting off implementation, companies place themselves at a competitive disadvantage as manual processes prevail while competitors successfully automate.
Why implement automated accounting processes now?
Like many business areas, the modern accounting department is in transition​. The key to your progress towards Continuous Accounting is to place value on data and analytical skills while de-emphasizing raw number crunching.
Automation moves Finance further into the value chain of the business by providing better business insights. ​For more information on automating the back office and the business insights your Finance department could benefit from with back-office automation, register for our upcoming webinar, "The Future of Finance."
This virtual event will delve into the latest developments in Financial Transformation, the benefits of Continuous Accounting, and the steps you need to take to automate the accounting process for your business. Join us on November 18th for this and more, with examples of how companies have improved their financial results through back-office modernization.
Read more information about this event's information here!
To learn more about SOFTRAX and our partners, visit our testimonials page and read about the challenges that businesses like yours have faced and solved with SOFTRAX solutions. Or get connected with Tom Zauli to schedule a quick chat and discuss your unique needs and challenges.
​